We are conveniently located where all the kitesurfing action happens and provide everything for a fun and relaxing kite holiday:
Storage area to leave your gear
Compressor to pump up your kite comfortably
Experienced beach boys to assist you in launching and landing your kites
Free Wi-Fi
Shower and toilets
Sunbed chairs to relax
Nice restaurant with good and cheap food/drinks
At the end of your stay you can wash your kites with fresh water in our washing area and dry them
Repair your kites and boards professionally directly in our kite center
Are you on holiday with non-kiters? Your family and friends are also welcome to join us and use the infrastructure free of charge.
Storage rate is 300 php a day, 1500 php a week or 4500 php a month per person
Kitesurfing Equipment Rental
Modern and safe equipment is the key to enjoying and progressing
We understand that using the most recent gear in good condition is essential to enjoying our sport safely.
Not only will you feel more comfortable and safe, but also you will be able to improve your skills greatly.
For those reasons, we decided to partner with one of the top brands on the market, F-one.
We use recent gear that we update every year and check the equipment regularly for your safety.
We have a wide selection of kites (ranging from 5m to 17m) and boards (twin tips, surfboards and foilboards).
Please note that the minimum requirement to rent equipment is to be able to ride upwind and perform a self rescue (IKO level 3). This is to ensure the safety of all users in the lagoon. If you do not hold a certification, we will ask you a few questions to evaluate your skills. You do not need to take a course to prove your skills but keep in mind that you will be charged for any damage caused by negligence or inappropriate use.
You can subscribe to a cheap insurance for kite rental using this link: https://cp.vdws.de/safetytool
Equipment is rented per customer and can not be shared with others.
Duration of rentals listed below are for consecutive hours/days.

Equipment rental is only available to kite on Bolabog beach during high season (end of October until early May).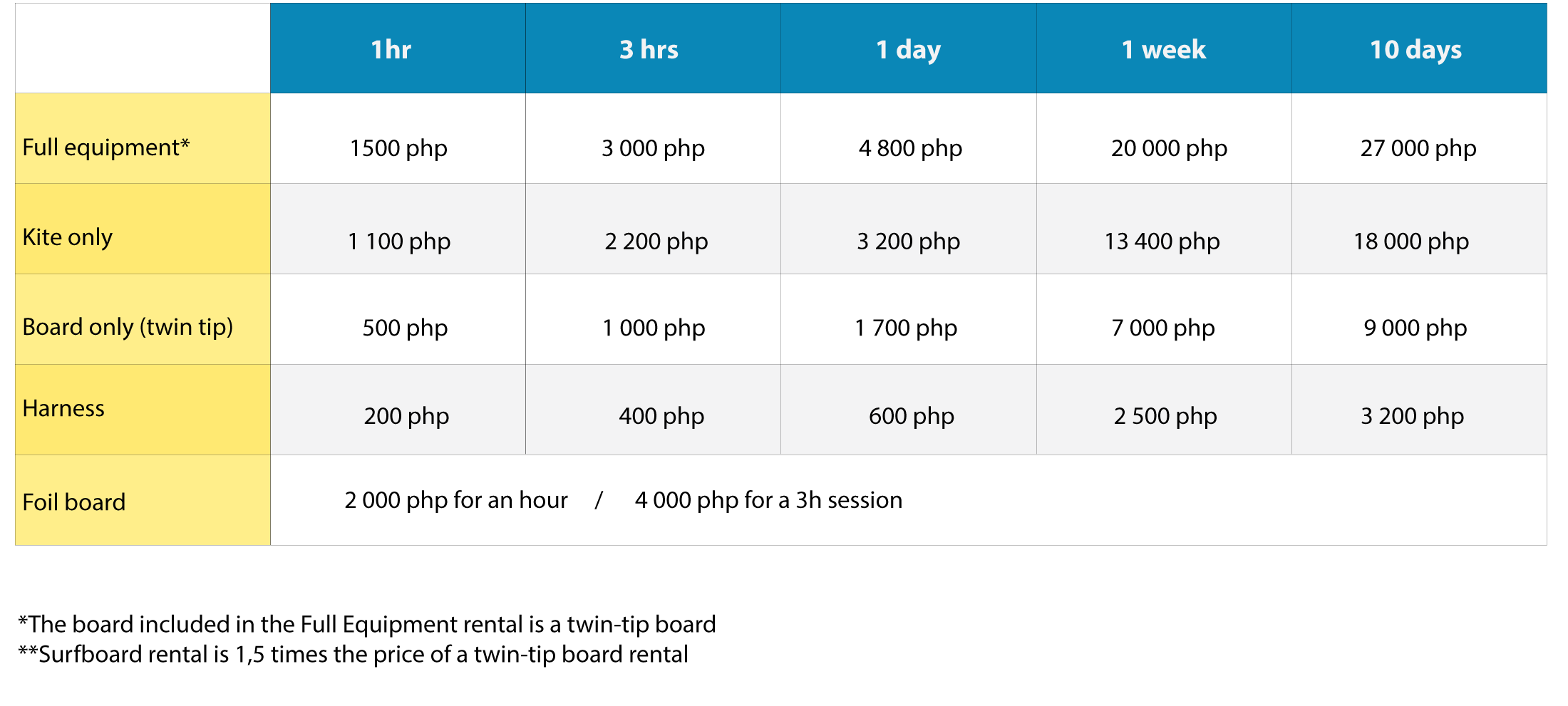 – Full euipment: kite + board + harness + booties + helmet (if needed)
– Possibility to change gear depending on wind conditions
– Assistance by our beach boys for launching and landing
– Use of the compressor
– Use of our faciities (WC, showers)
– We highly recommend the use of sunglasses (with leash) and sunscreen
– Usually, we do not use wetsuits. But if you get cold easily, you can bring one. We recommend the use of a long sleeved lycra in order to protect your skin from the sun.
– If you do not have the items above, you can always find them in our shop.
EVERYTHING YOU NEED FOR A PERFECT KITE HOLIDAY
We are the official distributor of F-one in the Philippines since 2003, and happy to share their excellent gear
with you. You can find the latest kites, wings and boards in our shop, along with a wide range of spare parts.
We also sell Mystic harnesses and kitebags, Ocean Sunglasses and suncream, Islakite t-shirts and lycras.
We always have second hand kites and boards for sale all year round. Do not hesitate to ask us for the latest pricelist.
You are welcome to try our kites and boards 30 minutes for free before buying.
If you break your kite, do not worry, we can also fix it.