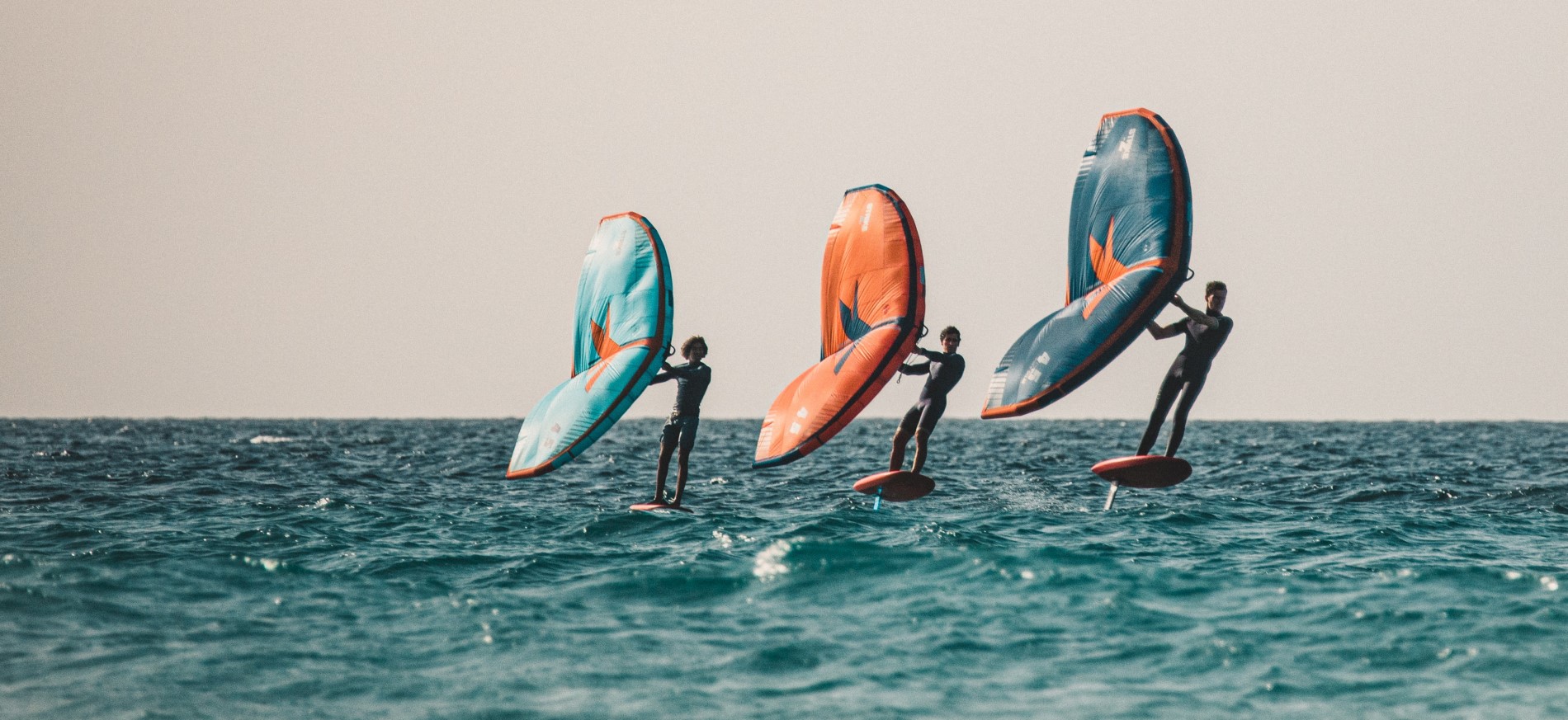 Welcome to Isla Kitesurfing School – Your Gateway to Wingfoil Excitement in Boracay!
Wingfoiling is the fastest growing watersport on the planet! It combines elements of windsurfing, kitesurfing, and stand-up paddleboarding, offering a unique and dynamic way to harness the power of the wind. Glide effortlessly above the azure waters, propelled by the wind and the hydrofoil beneath your board. Whether you're a seasoned water sports enthusiast or a complete beginner, wingfoiling provides an accessible and exciting way to connect with the elements.
What Our Wingfoil Lessons Offer:
Comprehensive Instruction: Learn the fundamentals of wingfoiling from experienced instructors who prioritize safety and skill development

Top-notch Equipment: We provide only premium wingfoiling equipment from F-one (the #1 brand on the market) to ensure you have the best experience.
We have a big range of wings  (2.6m, 3m, 4m, 5m and 6m), boards (inflatable/hard in various sizes), masts (65, 75, 85 and 90cm) and foils (940, 990, 1290, 1480, 1800, 2000, 2200).

Walky-talky: For maximum results we use walky talky assistance to be able to communicate with you easily while you are in the water
EVERYTHING YOU NEED TO LEARN YOUR NEXT PASSION!
Our Goal: Fast learning success combined with loads of fun. Our lessons are taught by experienced and certified Instructors who will guide you through every step of the learning process. We offer lessons for complete beginners or for intermediate riders looking to improve their skills.
We provide all the necessary equipment for our Wingfoiling lessons, including wings, SUP boards, foilboards, leash, booties and helmets. Our instructors will also teach you about safety procedures and how to read weather conditions to ensure that you have a safe and enjoyable experience.
In order to give you the best service possible, our lessons are taught using walkie-talkies.
Come share our passion and become part of our community!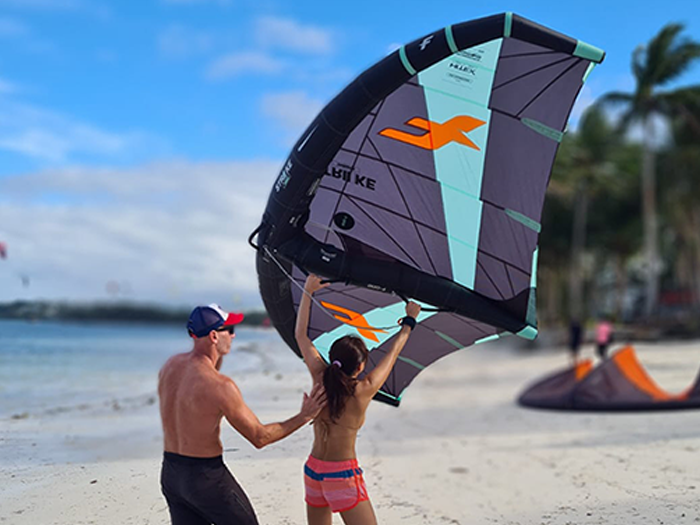 Want to give wingfoiling a try before committing to one of our Beginner course ?
We will teach you how to control the wing on the sand, then you will try it on the board (without foil).
Lot of fun guaranteed!
Duration: 1 hour
3800 php private
2850 php group lesson
(gear is included in the lesson rate)
Practice wing maneuvers on a big board without foil. Learn how to orientate your board, upwind, crosswind, and downwind in a safe and controlled way










Duration: Usually takes 2 to 4 hours
3800 php per hour, private
2850 php per hour,  group lesson
(gear is included in the lesson rate)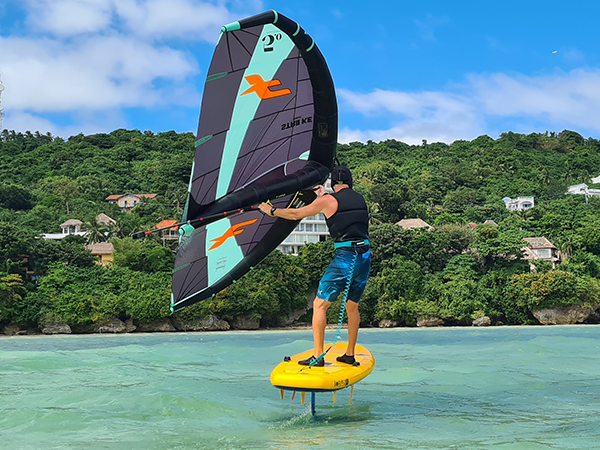 Now it is time to practice with a foil under your board. Master the art of hovering securely over the water, experience those initial flights on the foil, and discover safe techniques for handling falls. Control your planning, and enjoy the addictive thrill of flying over the water!
Duration: Usually takes 3 to 6 hours
3800 php per hour, private
2850 php per hour,  group lesson
(gear is included in the lesson rate)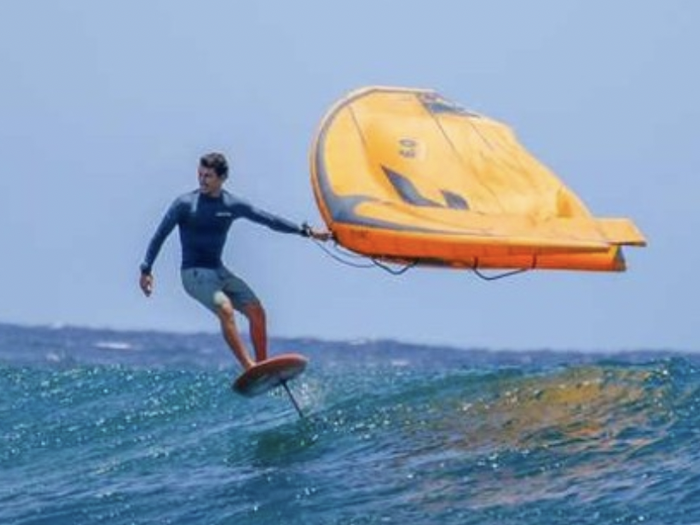 Most popular option!
Perfect for motivated individuals who want to learn as much as possible. The 7 hours will be a combination of the teachings described in Beginner Level 1 and 2







Duration: 7 hours of lesson + 2h of free
use of the wing and SUP to practice in-
between the sessions
26600 php private
19950 php group lesson
(gear is included in the lesson rate)
Wingfoil Equipment Rental
Modern and safe equipment is the key to enjoying and progressing
We understand that using the most recent gear in good condition is essential to enjoying our sport safely.
Not only will you feel more comfortable and safe, but also you will be able to improve your skills greatly.
For those reasons, we decided to partner with the top brands on the wingfoil market, F-one.
We use recent gear that we update every year and check the equipment regularly for your safety.
We have a big range of wings  (2.6m, 3m, 4m, 5m and 6m), boards (inflatable/hard), masts (65, 75, 85 and 90cm) and foils (940, 990, 1290, 1480, 1800, 2000, 2200).
Please note that the minimum requirement to rent wingfoil equipment in Boracay is to be able to ride on both directions with the foil confidently. This is to ensure the safety of all users in the lagoon. If you do not hold a certification, we will ask you a few questions to evaluate your skills. You do not need to take a course to prove your skills but keep in mind that you will be charged for any damage caused by negligence or inappropriate use (hitting a rock/pipe with the foil, etc).
You can subscribe to a cheap insurance for gear rental using this link: https://cp.vdws.de/safetytool
Equipment rental is only available to use on Bolabog beach during high season (end of October until early May).

– Full equipment: wing + foilboard + booties + helmet
– Possibility to change gear depending on wind/tide conditions
– Assistance by our beach boys
– Use of the compressor
– Use of our faciities (WC, showers)
– We highly recommend the use of sunglasses (with leash) and sunscreen
– Usually, we do not use wetsuits. But if you get cold easily, you can bring one. We recommend the use of a long sleeved lycra in order to protect your skin from the sun.
– If you do not have the items above, you can always find them in our shop
Is it hard to learn wingfoil in Boracay?
Learning wing foiling can be challenging initially, but like any watersport, practice and persistence will improve your skills over time. It is necessary to take lessons, practice on calm waters, and be patient with the learning process. We decided to offer wingfoil lessons in Boracay because we are convinced it is a perfect progression spot!
Starting in a knee to waist deep water will help you save energy hopping back on the board. The reef protects the lagoon from heavy rolling waves, which would otherwise be challenging with balancing on the board.
Is it not too tiring to constantly hold the wing with your arms up?
Despite how it looks, you are not lifting the 2 to 3.5kg wing with your arms. The wind is lifting it for you. You then work more on a control pull from your upper back. If you're not used to any upper body exercises, you will take a rest from time to time. Good thing, you will have plenty of rest during your beginning phases allowing to strengthen your upper body gradually.
How long does it take to learn it?
Our lessons are designed to open the learning door of wing foiling and keep it open.
Within the first 30 minutes, you'll learn the basics of the wind aspects and how to maneuver your wing on the land.
Within the first 2 to 4 hours, you will practice how to control the wing as you also balance on a board without foil.
After that, you should be ready to attempt your first flights on the foil.
After around 8 to 10 hours on average, you are able to take off on the foil on both sides and ride over 100 meters.